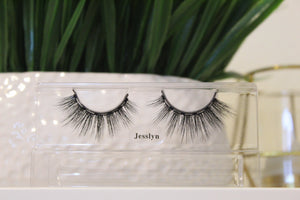 Kassie and Kylie Company
Jesslyn Lashes | 6-Magnet Limited Edition Collection
Regular price
$27.99
$0.00
Unit price
per
JESSLYN Lash is a Limited Edition 6 magnet lash pair
This lash is perfect for a date night, a photo session, or a special occasion.  Perfect set of magnetic lashes to stand out in social media posts.

It is Long and Gorgeous!
14mm
6 magnets
Thin Style
Full Volume
Includes Magnetic Lash Premium box holder in Marble and Gold
Love Magnet Lashes Black Magnetic Liner 4 ml
20 plus wears with proper care
Shipping:
Free shipping on all orders in the U.S.
Orders fulfilled and shipped within 24 hours
14 day 100% Money Back Guarantee
---
Share this Product
Best lashes I have ever had!
I have used a few different magnetic lashes over the years and these, by far, have been the best and easiest to apply. I love all of the different styles that are offered too. They also are much more durable when cleaning. My only issue (and it's a small one) is that I have not found the right make up remover that seems to remove the eyeliner with ease. My makeup wipes and micellar water aren't doing the trick. Any suggestions? Other than that I am IN LOVE and will continue to buy these!
---